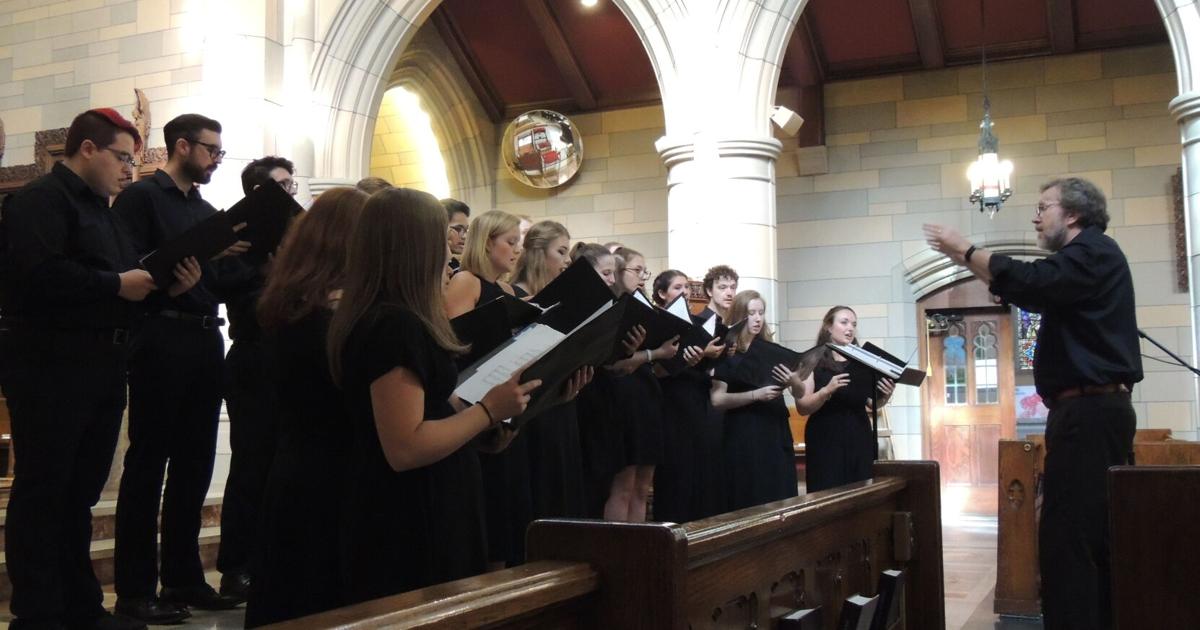 Ubi Caritas Choir Sings in Support of Berkshire's Faith-Based Food Ministries | Berkshire landscapes
Some people sing for their supper. a cappella chamber choir UbiCaritas sing so that the others can have supper.
In the 10 years since Berkshire Lyric Choral director Jack Brown founded Ubi Caritas, the mixed-voice choir for ages 16-28 has raised more than $10,000 to support local pantries run by religious communities in the region throughout the county of Berkshire.
On August 7, 20 singers will perform unaccompanied sacred and secular choral works at 3 p.m. at St. Mark's Catholic Church in Pittsfield and 5 p.m. at St. Joseph's Catholic Church in Stockbridge to raise funds for their respective food ministries.
The varied 45-minute program includes 20th-century and contemporary choral selections, as well as arrangements of traditional folk songs and spirituals by composers such as Gwyneth Walker, Moses Hogan and Eriks Esenvalds.
Berkshire Lyric Composer-in-Residence and Ensemble Singer Anson Olds set Robert Frost's poem 'In a Vale' to music, while Susan LaBarr includes words by American poet and conservationist Wendell Berry in her piece 'More Than Enough' ".
The group's concerts always include "Ubi Caritas", the arrangement of a Gregorian chant by Maurice Durufle in 1960 – the ensemble takes its name from the sacred text "Ubi Caritas et amor, Deus ibi est" (Where charity is and love, God is there) — as well as a second arrangement of the text, this time by Richard Kidd.
There are five choral ensembles under the Berkshire Lyric umbrella: Lyric Children's Chorus for singers aged 6 to 14; Melodious chord for high school girls; Berkshire Lyric Chamber Choir; the 80-voice main Berkshire Lyric Chorus; and Ubi Caritas, all led by Brown. In 2007, he succeeded the late Robert Blafield, who founded Berkshire Lyric in 1963.
"Choir literature in general is the biggest, deepest tradition, we go back six centuries," Brown said in a recent phone interview. "A lot of concerts with my choirs, we do very old music and very contemporary music in many languages ​​and cultural backgrounds.
Brown explained the origins of Ubi Caritas.
"I work at Hotchkiss School during the year, so I have free time in the summer," he said. "I have all these relationships with kids from different schools who have gone through Berkshire Lyric, and they were coming home from college. So I said, let's do a crash course with a guest band, and we'll have eight rehearsals, and then do three shows on the same day – this year we're doing two – we'll pile into the cars.
"An a cappella group travels very light, I just need a tuning fork and a music stand. We don't have to worry if the piano is in tune.
This church-hopping program evokes the tradition of traveling Venetian choirs, which walk from church to church every Sunday, stopping for a moment on the Rialto Bridge to rehearse a particular piece.
"We don't charge for admission, the church passes the plate for their local food ministry," Brown said. "Being able to donate money for a good cause, I think the kids really appreciate that."
The need for food aid "just exploded over the past two years across the county," Brown added.
The level of singing is usually very high, he said. "It's one of the bands that I really push because they have a lot of talent, a lot of ability. We make pretty demanding music.
"Good singers can be trained quite quickly if we identify the talent. It's amazing how they can grow between 16 and 22," Brown added.
Singers must leave Ubi Caritas at age 30, but are welcome to sing with the other bands, Brown said. "We have had people who have done the 10 years, and the children who stay with us for five years then leave the area. This year we have three who have never sung with us before.
In addition to fostering a love of music and teaching valuable choral skills, youth programs prepare new singers for the main Berkshire Lyric Chorus.
"You have to have a youthful energy to really do the music justice," Brown explained. "Older singers bring a lot to the table with experience, and that can't be ignored. But you also have to balance that with youthful sound quality. And when you mix it all together, you get real power.
A former concert singer himself, Brown passed on his passion for choral music to his daughter Fiona, now 28. "She sings in all of our bands and loves it," Brown said proudly.
"There's so much energy in these kids, giving up their time on a scorching Monday night to go to church and follow very detailed and demanding instructions to complex music."
One singer, Lucy Garrison, even showed up the same day she had her wisdom teeth extracted. She had missed rehearsal the previous week and "didn't want to get late," Brown said.
"Kids like to be around their own age, it empowers them," he added. "It's a special kind of community they have, I bring them snacks and they hang out in the summer. I just like the sound they can make.
Several members of Ubi Caritas are former Berkshire Lyric Choral Scholars, a program for promising young singers that begins around the age of 16.
"They get free voice lessons all through high school, all they have to do is be in the big choir on Monday nights," Brown explained. "I help them with school auditions, if they're in a musical choir, all states, college audition tapes, they get a lot of free advice. When they go to school and keep singing, they are the best prepared kids there.
"I have four or five of these kids, they're very talented singers," Brown added.
Choral Scholar and Pittsfield resident Caroline Fairweather began singing with Berkshire Lyric ensembles when she was 9 years old.
"She's doing a solo in one of those pieces, that sounds great," Brown said. "It's a peach, the best in the Berkshires."
"Choral Scholars was how I got voice training in high school," Fairweather, a recent Williams College graduate, said in a recent phone interview. "It was very valuable, I was able to audition for voice lessons at Williams. I had a repertoire, songs that I had worked on, thanks to this program.
She later led the college's Ephlat a cappella ensemble and sang in annual Opera Workshop productions.
Fairweather has been performing with Ubi Caritas since 2015. "This is the first year he has returned fully in person [post-pandemic]which is very exciting," she said.
She particularly appreciates the many opportunities for soloists to shine.
"Jack Brown is a magician, he chooses solos that suit the soloists very well," Fairweather said. "My solo is an arrangement of 'Bright Morning Stars', it sounds folksy and it came very naturally. It's a lot of fun.
"A good friend of mine, Lily Lothrop, is a great operatic soprano, and the solos she gets are a perfect match for her voice and sound perfect."
"Each singer has a rich history of voice work with Berkshire Lyric and beyond," Fairweather added. "[Brown] is very sensitive to everyone's individual experiences and what makes them who they are as artists.
Besides the choir, Fairweather also helps Brown with his free week-long summer choral music camp for children; and she was his assistant for the Lyric Children's Chorus before it closed in March 2020.
"It's come full circle," she said, "I teach kids who are on the same curriculum as me."
Fairweather finds Ubi Caritas' connection to charity work "very motivating".
"Being part of this band, making great music, having confidence that we're using our craft that we've all developed, we're doing a great job that we're really proud of, but it's not for us. In the end of account, it is an offering to the community.
If you are going to
Who: Berkshire Lyric's Ubi Caritas
What: Chamber Choir 10th Anniversary A Cappella Concerts to Benefit Berkshire Church Food Ministries
When: Sunday August 7
Performances: 3 p.m., St. Mark's Catholic Church, 400 West St. Pittsfield and 5 p.m., St. Joseph's Catholic Church, 11 Elm St. Stockbridge
Admission: Free, no ticket required. Voluntary offerings will go to the food ministries of the host organizations.
More information: 413-298-5365, berkshirelyric.org