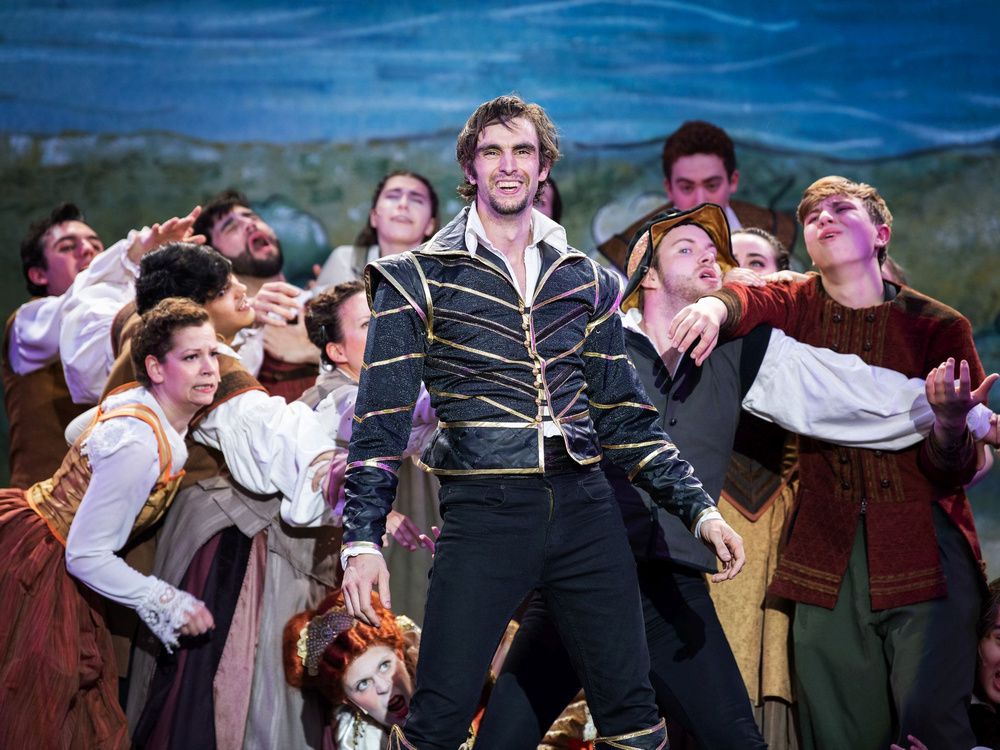 TUTS returns with musicals about music
Theater Under the Stars makes a triumphant return with two curiously complementary musicals under the Stanley Park night sky
Reviews and recommendations are unbiased and products are independently selected. Postmedia may earn an affiliate commission on purchases made through links on this page.
Content of the article
Something rotten! & We will Rock You
Content of the article
When: August 27
Where: Malkin Bowl, Stanley Park
Tickets & Info: $20 to $65 at tuts.ca
After a two-year hiatus imposed by COVID, Theater Under the Stars is back with two curiously complementary musicals under the Stanley Park night sky. Feat the usual talented body of young TUTS performers, both shows are crowd pleasers for different reasons.
Set in 1595, Something Rotten! is a witty, often silly, sometimes inspired Shakespearean parody that looks to the future and discovers Broadway musicals. Writers Karey and Wayne Kirkpatrick gave Shakespeare the full Mel Brooks musical treatment. If you liked The Producers, you'll love Something Rotten!
We will rock you, sand in a dystopian future, Ilooks to the past to rediscover rock music. Although handicapped by Ben Elton's banal book, some dynamic performances of the queen's songs save the day. If you like Queen, you'll love We Will Rock You.
Content of the article
In Something Rotten! brothers Nick and Nigel Bottom (the lively Kamyar Pazandeh and the endearing Vicente Sandoval) struggle to write plays for a London theater dominated by an obnoxiously charismatic Shakespeare (the fantastical Daniel Curalli). When Nick sings "God, I Hate Shakespeare", someone replies "Don't be a penis, / The man is a genius".
Nick goes to the diviner Nostradamus (star Jyla Robinson), who convinces him that the future of theater is in musicals. In the wonderful number A Musical, Nostradamus explains that the characters speak, then for no particular reason begin to sing and dance.
After the brothers' attempt at a Black Death musical with a chorus of reapers flop, Nostradamus looks ahead to see what Shakespeare's most famous play will be so Nick can steal the idea. It comes with Omelet. The second act features a performance of Omelette, the musical, with dancing eggs.
Content of the article
Meanwhile, Nigel and Puritan Portia (Cassandra Consiglio) fall in love. Bthe other actors have soft voices and ttheir romance provides a pleasant respite from the madness.
The action tapers off significantly in act two, but director Rachel Peake gets great performances from the entire cast. Choreographer Nicol Spinola delivers some great dance numbers and costume designer Stephanie Kong offers plenty of color.
Brian Ball's costumes are even more imaginative in the futuristic world of We Will Rock You, where rock music has been banned and people live their lives on the internet, programmed by the evil Killer Queen (Steffanie Davis). Evil Khashoggi (Tim Howe) applies their passive conformism.
But rumors persist of a Holy Grail where the rock of the past can rise again. A child who renames himself Galileo (Danny Malena) sees visions and hears fragments of ancient music. Finding a kindred spirit in a rebellious young woman, he baptizes her Scaramouche (Jessica Spenst). They manage to connect with others of their kind, the dynamic Brit (Tanner Zerr) and Oz (Jennifer Suratos), who lead them to an underground lair called the Heartbreak Hotel where nonconforming youngsters gather in search of the Lost Vibe. .
Content of the article
Unlike the inspired awkwardness of Something Rotten!, We Will Rock You's plot and dialogue are just awkward. The show features little exciting dancing, and about half of the Queen songs that make up the score are forgettable. But when the megahits arrive, this cast delivers.
Spenst blows the roof off Somebody to Love, and Suratos kills the anthem I Want It All. Davis' Killer Queen delivers a beautifully understated Another One Bites the Dust. Some of the best come last: Malena's We Will Rock You and the whole company's Bohemian Rhapsody, with standout guitar from Sam Brock-Mahood and Jason Heras.
Pray to the rain gods for a dry musical summer for Theater Under the Stars.