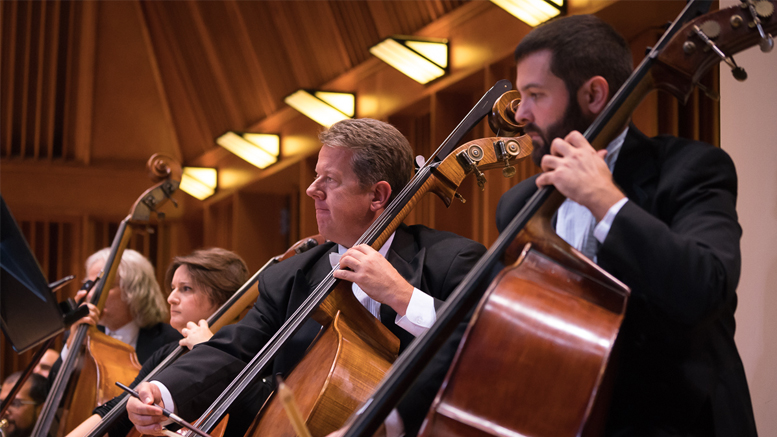 Orchestra Indiana to perform at Yorktown's Civic Green on July 4 — Muncie Journal
By Orchestra Indiana—
MUNCIE, IN – Orchestra Indiana has announced details for a FREE concert taking place on July 4 at the Civic Green in Yorktown. Directed by Kermit Poling, the patriotic program celebrating American Independence Day will feature music by John Philip Sousa, George Gershwin and John Williams, performances by vocal soloists Natalie Cordone and Keron Jackson, and conclude with a bonfire. 'artifice. The concert starts at 8 p.m. and will last approximately two hours.
Orchestra Indiana Executive Director Scott Watkins said, "We are truly thrilled to present this free event to the community that so generously supports our organization. The concert will be a celebration of America, with music by American composers such as Leroy Anderson, George Gershwin, John Williams and John Philip Sousa, conducted by great American conductor Kermit Poling, and will feature two young amazing american singers.
This is the second free Independence Day concert presented by Orchestra Indiana. The premiere in 2021 brought together more than 5,000 people.
Yorktown Civic Green is located at 9400 IN-32 in Yorktown, Indiana.
The main sponsor of the concert is LifeStream Services.
ABOUT KERMIT POLING
Multi-talented American musician Kermit Poling was concertmaster and co-conductor of the Shreveport Symphony for more than three decades. His original compositions have been enthusiastically received by audiences around the world and recorded by the London Symphony Orchestra.
https://www.kermitpoling.com/biography
ABOUT NATALIE CORDONE
Star of musical theater and concert halls, in 2017, Natalie Cordone was named Best Featured Actress in a Musical for her performance in An enchanted evening. She has performed with the professional orchestras of Ft. Wayne, Greensboro and Orlando, and is co-founder of the online coaching studio The Connected Performer.
https://nataliecordone.com/about
ABOUT KERON JACKSON
Praised by the Dallas Morning News as the "powerful voice that takes command of the stage", bass Keron Jackson is a gifted singer, actor and evangelist. Her amazing personal story has inspired millions around the world.
http://keronjackson.com/about/
ABOUT THE INDIANA ORCHESTRA
Orchestra Indiana began in March 2022 when the Muncie Symphony Orchestra and the Marion Philharmonic Orchestra merged into one organization. Both MSO and MPO have a rich history in our region, and Orchestra Indiana is fortunate to continue their legacy.
The Muncie Symphony Orchestra began when Dr. Robert Hargreaves was hired by Ball State Teachers College to direct the college's music program in the 1940s. He believed Muncie needed a stand-alone orchestra. Hargreaves led the first professional orchestra with two concerts in the spring of 1948. In January 1950, over 50 musicians met and approved a constitution for the Muncie Civic and College Symphony Association. For more than 70 years, the Muncie Symphony Orchestra has thrived on a strong relationship with Ball State University, BSU's music faculty, and talented music students who make up a large portion of the orchestra.
The Marion Philharmonic was formed in 1969 under the direction of Benjamin G. Del Vecchio. The orchestra was made up of students and local musicians until it became a semi-professional ensemble within five years. Mr. Del Vecchio was a doctoral student at Indiana University when he joined the Taylor University School of Music. Little did he know that founding an orchestra would become a major priority. With the help of Dr. Edward Hermanson of Taylor University and a group of committed businessmen from Marion, the orchestra soon became Del Vecchio's passion and together they developed MPO.
Orchestra Indiana musicians include musicians from former MSO and MPO. They are teachers, students and professional musicians hailing from East Central Indiana, Indianapolis, Fort Wayne and Cincinnati. Many of our musicians also have "day jobs" as farmers, teachers, paramedics and executive directors. All of them are passionate about bringing you live orchestral music.