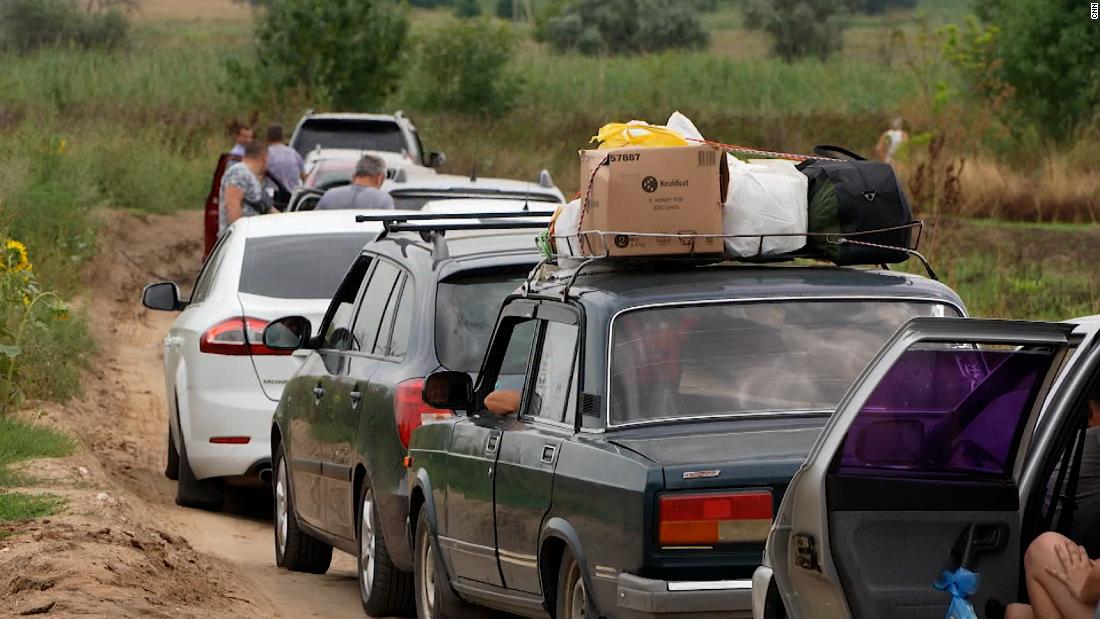 Live Updates: Russia's War in Ukraine
UN Secretary-General António Guterres has called recent artillery and rocket fire around the Zaporizhzhia nuclear power plant in central Ukraine "suicidal" as Ukraine and Russia traded responsibility for both attacks.
Ukraine on Sunday accused Russian forces of launching rockets at the Zaporizhzhia nuclear power plant, further heightening fears of an accident a day after the United Nations watchdog warned that the fighting in the occupied complex risked a "nuclear disaster".
The Zaporizhzhia plant is the largest in Europe and occupies a large site on the Dnipro River. It has continued to operate at reduced capacity since Russian forces captured it in early March, with Ukrainian technicians remaining at work.
"Any attack on nuclear power plants is a suicidal thing," António Guterres told reporters in Tokyo.
The rockets launched on Saturday evening hit near a dry storage facility, where 174 barrels containing spent nuclear fuel are kept, according to Energoatom, Ukraine's nuclear power company. Explosions blew out windows in parts of the plant and a worker was hospitalized with injuries from shrapnel.
This is the second time in as many days that the plant has been affected.
Ukrainians say that several Russian assaults withstood Donetsk: Ukraine's military said on Sunday it had inflicted losses on Russian forces in several parts of Donetsk and repelled their efforts to advance in other places.
During a briefing, the Ukrainian Armed Forces General Staff said that Russian forces tried to carry out several assaults in Donetsk against several settlements near Sloviansk, but Ukrainian forces repelled them.
Russia may be preparing to send more forces to the front line, Zelensky's adviser warns: Ukrainian presidential adviser Mykhailo Podolyak called on Germany to help boost its arms supply on Sunday in an interview with German newspaper Tagesspiegel, according to the president's office.
Podolyak said in the interview that Ukraine needed "as many modern weapons as possible" and asked for the participation of German Chancellor Olaf Scholz.
"The more heavy weapons we have and the sooner, the sooner we can stop this war," he said, warning that he thinks Russia wants "to freeze the conflict for six months in order to bring new troops and new weapons on the front line". ", although there was no official indication of this from the Russian side.
Zelensky rules out future negotiations if Russia holds referendums in Ukraine: Ukrainian President Volodymyr Zelensky has said he will not hold future talks if Russia holds referendums in Russian-occupied areas of Ukraine – something officials in Russian-held territories in Ukraine's eastern Donbass region say already said they would.
"Every week there are more and more reports that the occupiers are preparing for pseudo-referendums in the occupied areas of the south of our country," Zelensky said in his Sunday night address. "I mean a very simple thing, anyone who helps the occupiers in any way to achieve their intent will be held accountable. They will be accountable to Ukraine."
Vessels loaded with Ukrainian grain head for international markets: Ukraine's grain export through Black Sea ports continued on Monday, with the first ship to leave the southern port of Yuzhnyi under a UN-brokered deal to help ease the crisis global food supply triggered by the war.
Ukraine's infrastructure ministry said the bulk carrier Sacura became the first ship to leave port since the early days of the war in February.
The Sacura and the Arizona, which left the southwestern city of Chornomorsk on Monday, are transporting 60,000 tons of agricultural products to international markets. Meanwhile, one of the first ships to leave the Black Sea loaded with Ukrainian grain, the Polarnet, has reached Turkey, according to Ukrainian officials.