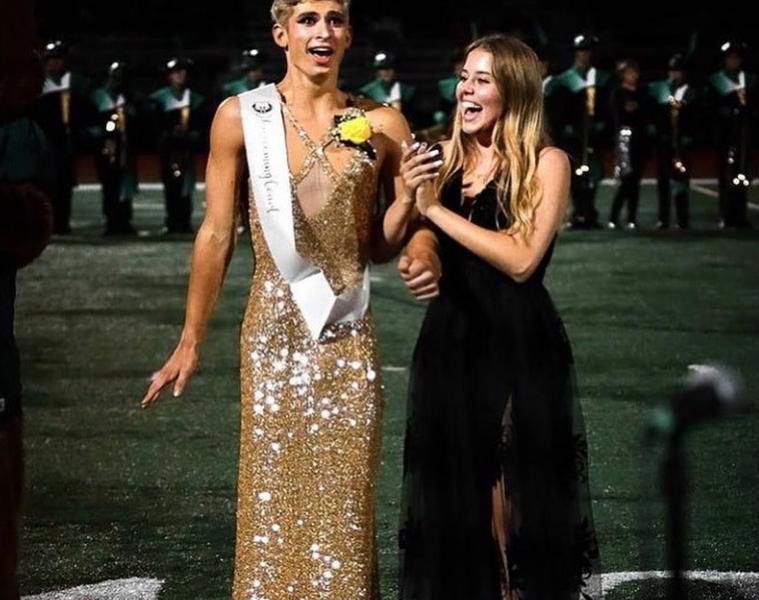 Gay high school student who makes his mark on TikTok is crowned queen
LEE'S SUMMIT, Mo. – A brawl between students that led to the suspension of an anti-gay bully and his friend who defended him, led to hundreds of students leaving classes on Monday as a sign in solidarity to protest against the school administration punishing them and not to address the behavior of bullies.
Danny Lillis, who is openly gay, told multiple media outlets that since the start of the school year at Lee's Summit High School in suburban Kansas City, he and his friends have been targeted and intimidated by another group of students. .
This year, Lillis started to put on makeup to express herself.
Elder Out's friend Malani Hohlbaugh is tired of her friend being the butt of anti-gay slurs and bullying. Last Wednesday, she and her friend Lillis accosted the group of 3 men who were the main cohort. The confrontation escalated into a physical altercation which left her to the ER with a broken nose and was hung up with Lillis and another of their friends.
Lillis told the Kansas City Star newspaper that the student group regularly made hateful remarks and threw food at them. He claimed he had visited administrators at least four times to report the incidents, "crying, repeatedly saying 'I don't feel safe'. And nothing has changed.
"They were just talking about how ugly we are, how rude we areAnother senior Carly Vento told WDAF-TV Fox4. "How fat we are. "
Melanie Davies, mother of Lillis' friend Malani Hohlbaugh, told the Kansas City Star; "Whenever this has happened, our kids have gone to the student administration and reported it," Davies said. "There is supposed to be a zero tolerance policy for harassment, but no one is doing anything. They didn't get the help they needed. "
"The same group of children started to meet them again and my daughter had had enough. She ran up the stairs after one of the boys and yelled at him not to talk to them like that, not to say these things,"Davies said.
"They turned around and he walked in front of them. My daughter tried to get around it. But their shoulders hit, then he shoved her. So she pushed him away, and he hit her right in the face. "
According to Lillis and Hohlbaugh, "No teacher was there. The students broke up. "
In an interview with Fox4 Monday, Missy Lillis, Danny's mother told the station that she even met with the deputy director to work out a safety plan weeks ago.
"We never, ever wanted things to escalate to this point. Unfortunately he did, and physical damage was done," she said.
Lee's Summit R-7 School District spokeswoman Katy Bergen said in an email to The Star that "all forms of bullying are prohibited in LSR7. We investigate all bullying complaints we receive.
She declined to provide details to the newspaper regarding the allegations of bullying, brawling and disciplinary action.
"Everyone in the Lee's Summit R-7 School District community deserves to feel safe and welcome. Harassment or discrimination in LSR7 is strictly prohibited, "she said. "While laws protecting student privacy prevent us from discussing the details of this incident, we can share that school and district administrators are investigating and taking action to ensure the safety of all students and Staff."
"District administrators will follow the policies and procedures of the education council as we determine the next steps. In LSR7, ensuring an inclusive culture where our students, staff and families are valued and treated with dignity is a top priority.
As a result of the brawl and suspensions, students were not allowed to attend events back home from high school last weekend.
Before the walkout, the students created a Change dot org petition, which listed the following factors:
Things to know:
1. The harassment had been reported by students prior to the altercation, and the administration did not investigate.
2. The administration's standard policy is to punish both parties regardless of who started the altercation.
3. A non-contact contract had been entered into between the parties in private, which was not enforced by the school and after which the verbal harassment continued.
4. An ally of the LGBTQ + student repelled a member of the harassing party after asking him to leave (the student was hurling homophobic slurs at the LGBTQ + student and violating the non-contact contract), and the harassing party inflicted visible injuries on the LGBTQ + student. ally in response.
Our requests from the administration of Lee's Summit High School:
1. Excuse the LGBTQ + student and his allies for the suspension and remove the incident from their permanent records.
2. Investigate reports and fairly punish the other party for harassment based on sexual orientation.
3. Commit to applying the school's zero tolerance policy on bullying and harassment.
4. Make a school-wide apology for the administration's initial handling of the incident and for scaring all LSHS LGBTQ + students about their physical and mental safety at school. .