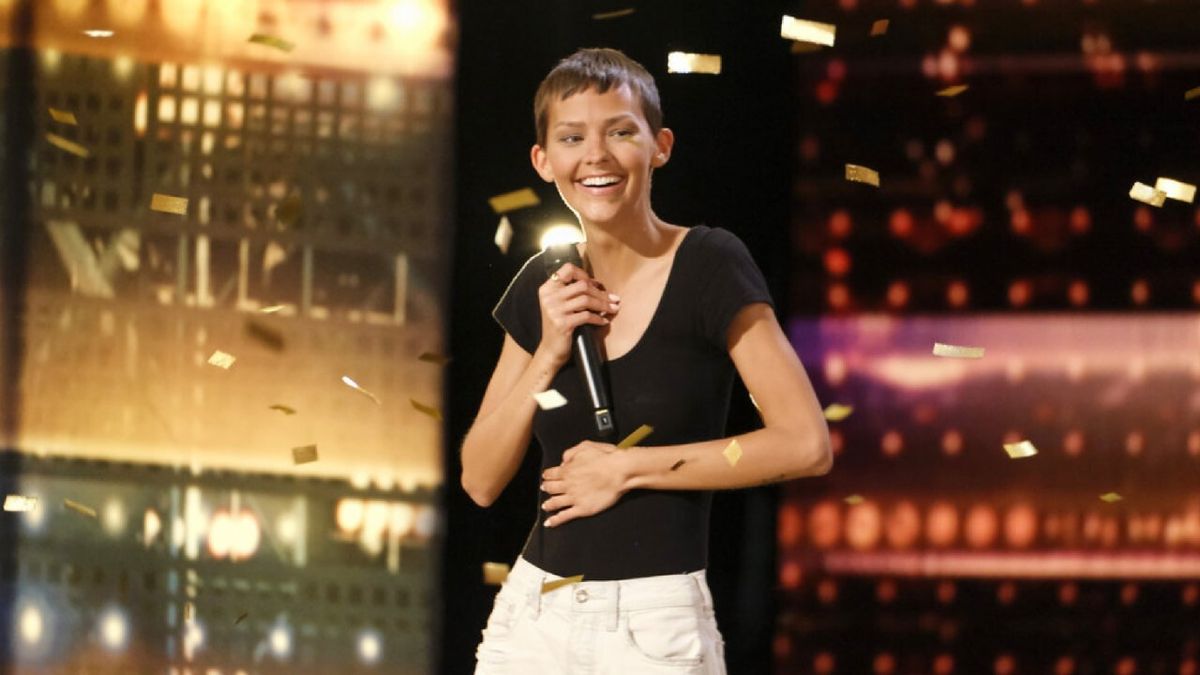 AGT's Simon Cowell pays tribute to Nightbirde and her courageous battle with cancer as the show looks back on favorite Golden Buzzer moments
America's Got Talent rewards a select few performers each season with golden buzzers to advance them in competition, and Judge Simon Cowell's selection in Season 16 packed a punch with both its incredible song and powerful story. Singer Jane "Nightbirde" Marczewski was a favorite to potentially even win the season after just one performance, but unfortunately had to withdraw from the competition due to his battle with cancer. She died in Februaryand now Cowell took the opportunity in season 17 to pay tribute to him.
AGT took a break from the Season 17 auditions in the final episode and instead focused on Simon Cowell's picks for the top Golden Buzzers in the show's history. He made a special mention of Nightbirde and kept paying homage to it with the show. He took to instagram to praise his bravery thinking back to the night in 2021 he pressed the buzzer for her, posting:
Simon Cowell selected a photo of the moment from season 16 just after hitting the golden buzzer for Nightbirde, then stepped on the AGT stage to give him a hug. Her performance had an emotional impact on all the judges, but Cowell got a bit scared when he announced he wasn't going to give her a "yes" to move forward. Luckily, it was because he intended to give her one of the AGTthe highest honors with a golden buzzer.
Tragically, less than two months after being advanced to Simon Cowell's live shows, Nightbirde had to withdraw from season 16. Although she said that playing on AGT was "an honor" and "a dream come true", her health had deteriorated and she would not be able to return for another performance.
Just over a month later, Simon Cowell shared that he spoke with Nightbirde after the first half of the Season 15 finale, and said that he thought she would have won the whole contest if she could have come back. He also shared that they made the decision for her not to move forward due to the stress it would have caused on her health.
Then, in February 2022, the talented singer and America's Got Talent standout died, after a long battle with cancer that began in 2017. Following her death, Cowell spoke and praised her as an "extraordinary person" which had "a huge impact" on both AGT and the world. He sent his love to his family, with the message of "Rest in peace" to the woman who had impressed him so much with his talent. His companion AGT judges and host Terry Crews also paid tribute to her at the time.
With all five Season 17 Golden Buzzers already awarded and Simon Cowell thinking back to those who have stood out in the history of the series, it's only fitting that he took the opportunity to present it again. In case you missed his original appearance on AGT (or you just want to experience it again), check out his performance of his original song "It's Okay" on the AGT arrange:
While the episode "Simon's Favorite Golden Buzzers" was a nice interlude in the auditions to come back to AGT past days, the show will soon be back to business as usual. The next new episode of auditions from America's Got Talent airs Tuesday, July 12 at 8 p.m. ET on NBC. You can catch up on Season 17 so far on streaming with a Peacock Subscriptionand discover other display options with our 2022 TV premiere schedule.